Climate Change Innovation: Needs, Gaps, and Opportunities for Academic Innovators and Entrepreneurs
Date: Thursday, March 4, 2021
Time: 1:00-2:00 PM PST / 4:00-5:00 PM EST
Register to receive virtual access link.
What does a more climate-responsible future look like? What will our regional contributions be?  Join BIDS Faculty Affiliate Dan Kammen in conversation with Claire Broido Johnson, managing director of the University System of Maryland Momentum Fund, to hear about what we need to be successful in combating climate change, what gaps exist in technology, processes and funding, and how the Baltimore research and innovation ecosystem can help.  Kammen is a leading renewable energy expert, professor of energy, government advisor, and startup founder, and founding director of UC Berkeley Renewable and Appropriate Energy Laboratory.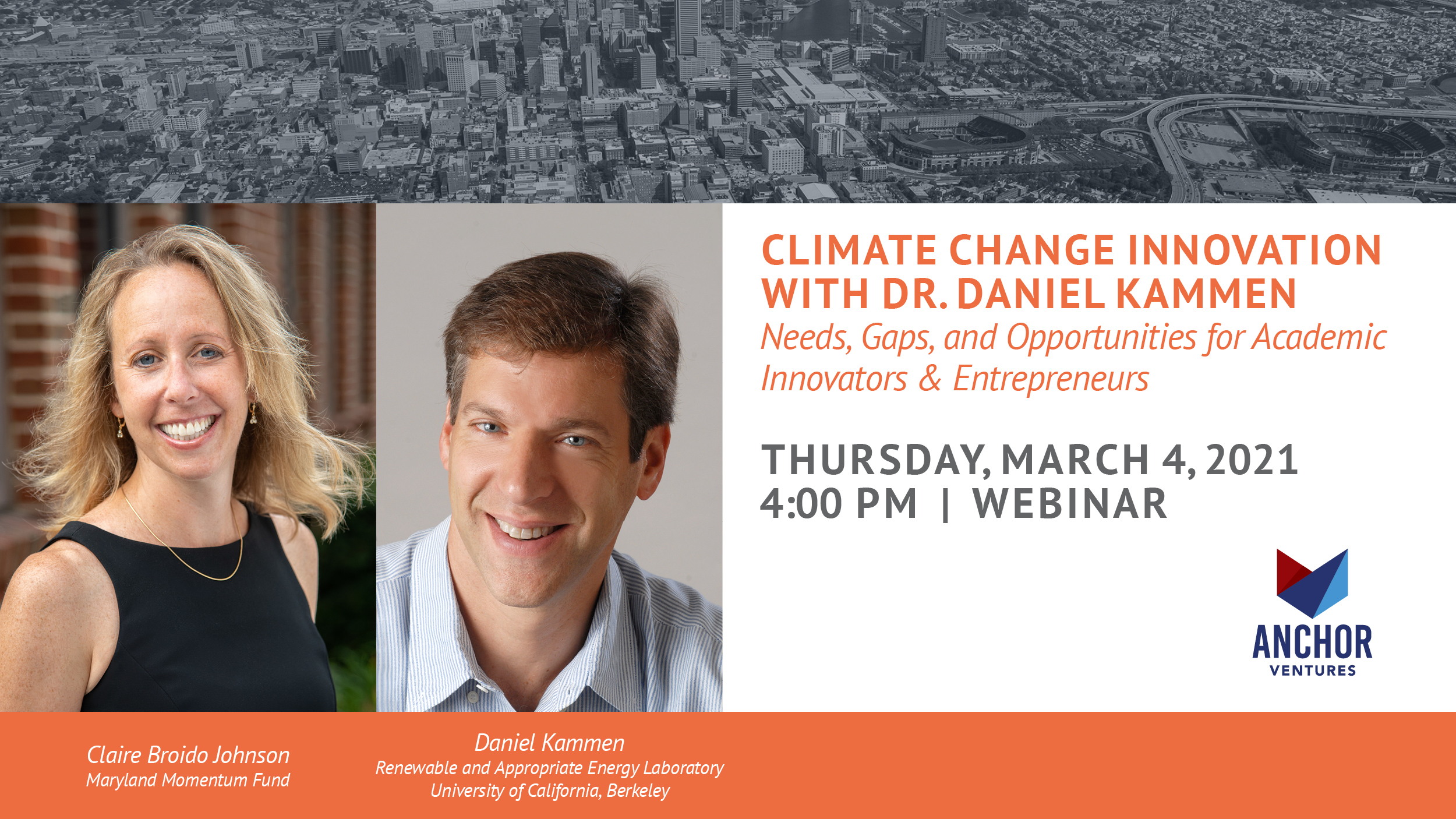 Contact: Mary Morris, Anchor Ventures, anchorventures@umaryland.edu
Speaker(s)
Professor and Chair, Energy and Resources Group
Daniel Kammen is professor and chair of the Energy Resources Group at UC Berkeley, a professor in Goldman School of Public Policy, where he directs the Center for Environmental Policy, and a professor in the department of Nuclear Engineering. He is the founding director of the Renewable and Appropriate Energy Laboratory (RAEL). He is an expert on energy systems and the science and policy behind climate solutions.  He has a BA in Physics from Cornell University, and Masters and PhD degrees in Physics from Harvard. He is a Fellow of the American Association for the Advancement of Science (AAAS) and has served on numerous National Academy of Sciences, Environmental Protection Agency, and Department of Energy committees and advisory panels. Kammen has served as a contributing or coordinating lead author on various reports of the Intergovernmental Panel on Climate Change since 1999, and shared the IPCC's 2007 Nobel Peace Prize.